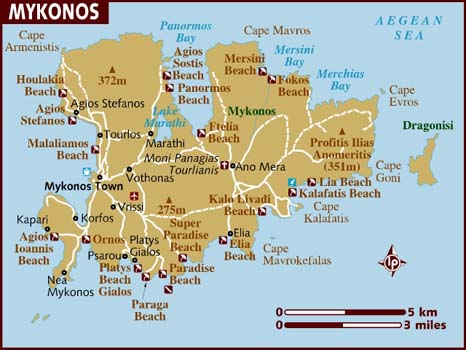 The beaches of Mykonos are very beautiful, numerous, and all characterized by crystal water. Which beach to choose is mostly up to your personal taste, depending on whether you like the sand or the pebbles, organized beaches with music or wild beaches in the middle of nowhere.
In general, the beaches of the south (especially south-west) are more commercial. This is where most of the popular beach-bars and beach-clubs are. Usually, these beaches start to get crowded in the first hours of the afternoon. Therefore, if you don't want to give up the comfort of the organized beach, while at the same time avoiding the full house, setting the alarm early and visiting these beaches in the morning could be a good solution. The south coast is characterized by very fine sand and it's protected by the meltemi, the strong wind that during the summer, especially in August, combs the island, blowing from north.
The beaches of the north are less developed and more suitable for who's looking for some calm and relax. The north coast also features beautiful beaches, often not organized.
It's usually quite simple to find free parking by the sea for any kind of vehicle. Some of the beach-bars of the south charge for guarded parking. However, free parking lots are usually quite safe, especially during the months of May-June and September-October. In July and August, the whole island gets very crowded. As a precaution we would suggest to avoid parking the bikes too close to other vehicles, so to avoid the domino effect in case of fall.
During the summer months, the traditional fisher boat caique provides a shuttle service, hopping across the most popular beaches of the south coast. The taxi-boat starts from the beach of Ornos or Platis Yialos and moves east, stopping by all the beaches up to Elia beach. There is also another line which connects the new port (Agios Stefanos) to the old port (Mykonos town).
Let's see in detail some of the best beaches of Mykonos. In this virtual tour, we'll start from north-west and we'll move clockwise, going through the beaches of the island.